Yes you heard me... please check out older post.
But hey!!! Let's talk about what's new. I am working on 2 projects!!
Yes.  I am working on the Zelda parody and a game called Pinknight!
You heard it correctly Pinknight. It's about a knight who likes pink and loves everything but every thing he loves is pretty much dead or exploded. The shadow is trying to capture him. While the knight is trying to save his prince.
The art style for this game will be like Dan paladin's art style. And also this would be my very first flash game to be uploaded and it would be made in game maker. 
I hope you will enjoy it :D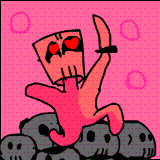 I also want to say is thank you guys so much for 4 fans
I think thats very cool to see
Thank you